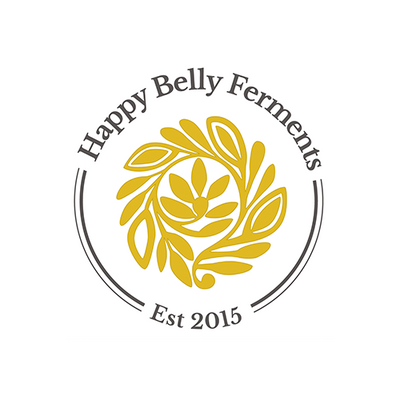 Happy Belly Ferments
Happy Belly Ferments probiotic drinks production began as a kitchen bench top fermentation project making health tonics for the family. 
Jo Kempton, the brewer behind the Happy Belly Ferments brand, began fermenting foods and drinks to improve the health of her family. This was initially mainly for her eldest son who has developmental challenges. Specialists suggested that improving gut health was important to help him be the best he could be. Adding probiotic bacteria into the diet was one of the suggested routes toward improved health. Jo found through this experience that the probiotic bacteria from the fermented foods and drinks she was making seemed to have a positive effect for all the family.
The idea for selling her Water Kefir came from seeing the benefits it gave to family and friends and the encouragement of everyone who tasted it. The name Happy Belly Ferments was born from the great feeling in your belly when all is well. The lotus flower on the logo to Jo depicts beautifully the intention behind the fermented drinks. It grows from deep in the mud, seemingly from nothing into a beautiful flower. This provides a metaphor for the human digestive system which is unseen but so important in determining vibrant health for the rest of the body. 
Back in 2014 Jo was fermenting in 1 litre jars on her kitchen bench, these days her brews are rather larger and her process rather more automated but it still involve the same love and care it received when it was made just for the family.